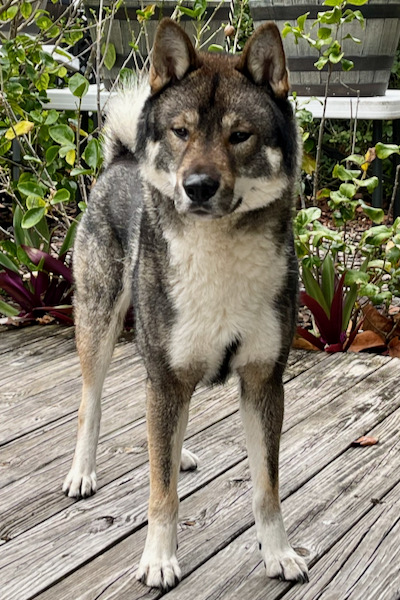 Shunreihou Go Shounan Koumesou

   
Call name: Kota
Born: 1/13/2018
Health: OFA Hips Good, Elbows Normal, Patella Normal, Eyes PPM
Optimal Selection Genetic Screening: Clear of all tested disorders 
Color: Black Sesame (Kuro-Goma)
Coat A-Locus Genes: aw/at (Kuro-Goma/Kuro)
Breeder: Masanori Negishi
Sire: Kawamura No Ryuuchou Go Fukasou
For more information about Kota's lineage, please visit Shunreihou on the Shikoku Pedigree database.                                                                                                                                                                                                                        
Intelligent, Creative & Energetic
Kota's most unusual hobby is bowling with coconuts! As a teenager he discovered the joy of collecting coconuts and rolling them along the length of our deck. Then, when he was done playing, he would open the front door and let himself inside. He is a creative, intelligent and highly energetic dog with a very strong prey drive. He is generally stoic and reserved around strangers, but is closely bonded to our son. Born in Japan, he is a wonderful example of the breed, possessing the typical Shikoku characteristics in both appearance and personality.