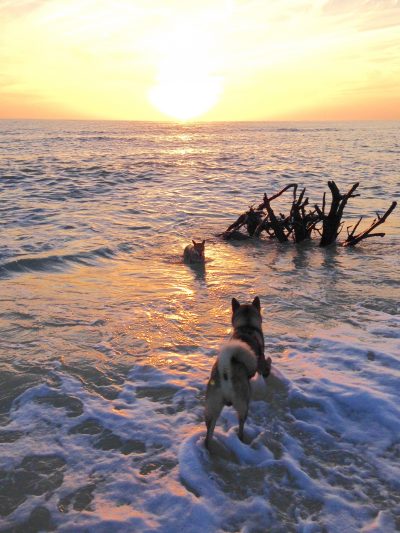 Our Kennel
Akitsu Shikoku Sou is a small kennel located on Sanibel Island off the Gulf Coast of Florida. Our dogs also spend time at Dragonfly Brook Farm in the Monadnock Region of New Hampshire. "Akitsu" is Japanese for dragonfly. Our dogs love to chase the dragonflies found on both Sanibel Island and Dragonfly Brook Farm
Why the Shikoku
We started planning for our kennel when we acquired Dragonfly Brook Farm in 2011. The rural NH location provided plenty of space but also means we have to be wary of predators such as the coyote packs we often hear howling at night. After owning a Shiba Inu for fifteen years, we knew we wanted to continue working with the Japanese breeds. We decided one of the medium-sized Japanese hunting dogs would be best for our environment, and soon added two Shikokus to our family. Our dogs have now come with us to Sanibel Island, where they enjoy chasing the lizards and crabs. Sanibel welcomes dogs on all of its beaches so some of our Shikokus have become expert swimmers.
In early 2013 we imported our first Shikoku, Setsuko (above left) from Akashima Kennel in Canada. As we got to know the Shikoku community, we learned that genetic diversity was essential to the viability of the breed in North America. This led us to Nico Reimerink's Kasatori Sou Kennel in the Netherlands, and in late 2013 we imported Takahiro (above right) in a co-ownership with Katja Weber of Akashima Kennel. Setsuko and Hiro's daughter Mika was born in 2017. In 2018 we imported two more dogs. Kota, our first Japanese import, came to us from breeder Masanori Negishi with help from Shigeru Kato. Kiko, our charming black and tan girl, joined us from Kasatori Sou. Katja, Nico, and Shigeru have all made invaluable contributions to the breed with their extensive efforts to bring Japanese bloodlines to Europe and North America and with the high quality of their litters.
Joining NIPPO
In 2021, as our second generation of dogs completed their health tests, we joined the Nihon Ken Hozonkai, commonly known as NIPPO. Akitsu Shikoku Ken puppies will now be registered under our NIPPO kennel name, Akitsu Shikoku Sou. Select litters will be eligible for NIPPO registration in addition to AKC FSS registration. In April 2021 we welcomed the first litter of Setsuko and Hiro's grandchildren! We currently have two girls at breeding age, and we expect black sesame and black and tan pups in our upcoming litters.
"A Living National Monument"
The more we learn about this fascinating breed, the more committed we become to preserving it from extinction. The Shikoku is descended from the native dogs that hunted with the Joman people seven thousand years ago, and the isolation of the Shikoku mountains in Japan has allowed them to retain a high degree of genetic integrity. As we watch our dogs hunt it is easy to picture their ancestors alongside the Jomon people. The Shikoku is recognized as a "Living National Monument" in Japan, where the breed has been preserved by the dedicated breeders of the Nihon Ken Hozonkai. The Shikoku is now the rarest of the Japanese native breeds, with less than 250 litters born in Japan in 2020. Outside of Japan the breed is even less common, with only about a dozen litters per year in North America.
Our goal at Akitsu Shikoku Sou is to increase awareness of the breed and to contribute to the genetic diversity in North America. We prioritize health, temperament, and conformity to the Japanese standard. All of our dogs are considered members of our family, and our puppies are raised and well socialized in a home environment. In accord with the Puppy Culture approach to raising puppies, we believe in providing our pups with age appropriate opportunities for social and mental development during the first weeks of life.